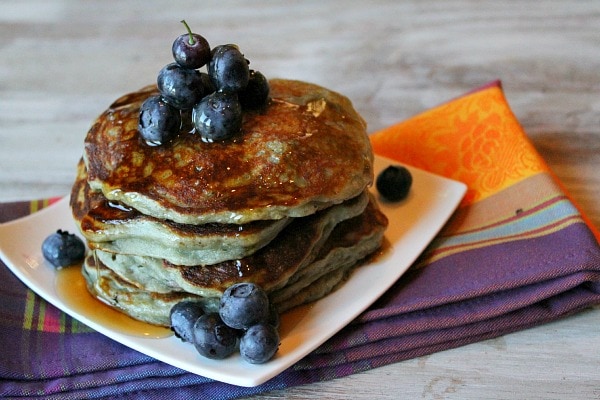 Blueberry Greek Yogurt Pancakes
Yield
Makes 8 medium sized pancakes
Ingredients
1 cup flour
2 tbsp pure cane sugar
1/2 tbsp baking powder
1 tbsp flax seed
1/2 cup almond milk (or regular milk)
2 eggs
1/2 cup plain greek yogurt
1/2 cup fresh blueberries
jelly or syrup for topping
Directions
1) Heat a griddle or non-stick skillet to medium heat (about 300° F to be exact.) Mix together the dry ingredients in a medium sized mixing bowl. Add the rest of the ingredients one by one (except for the jelly/syrup), thoroughly whisking after each addition.
2) Scoop about 1/4 cup of the mixture onto the griddle or non-stick skillet and repeat until you're either out of space or out of pancake batter. Cook the pancakes for about 5 minutes on each side, until they become a light brown color. Serve warm with jelly or syrup.
*Tip: When I make pancakes, I turn on my oven to the lowest possible temperature and place an oven-proof dish inside, then I place the pancakes in the oven to keep warm as soon as they're finished cooking. This is a good tip for if there are still some sleepy heads that have yet to come down for breakfast!